Home decor can become a little more complicated once you have kids, as you want to make sure that they're as safe as possible at all times.
If you're a parent with a toddler moving around the place, you might be curious to know: Can you have a coffee table with kids?
In this article, I will cover some key information about owning a coffee table with kids, including how to make your coffee table more kid friendly.
So, let's get into it.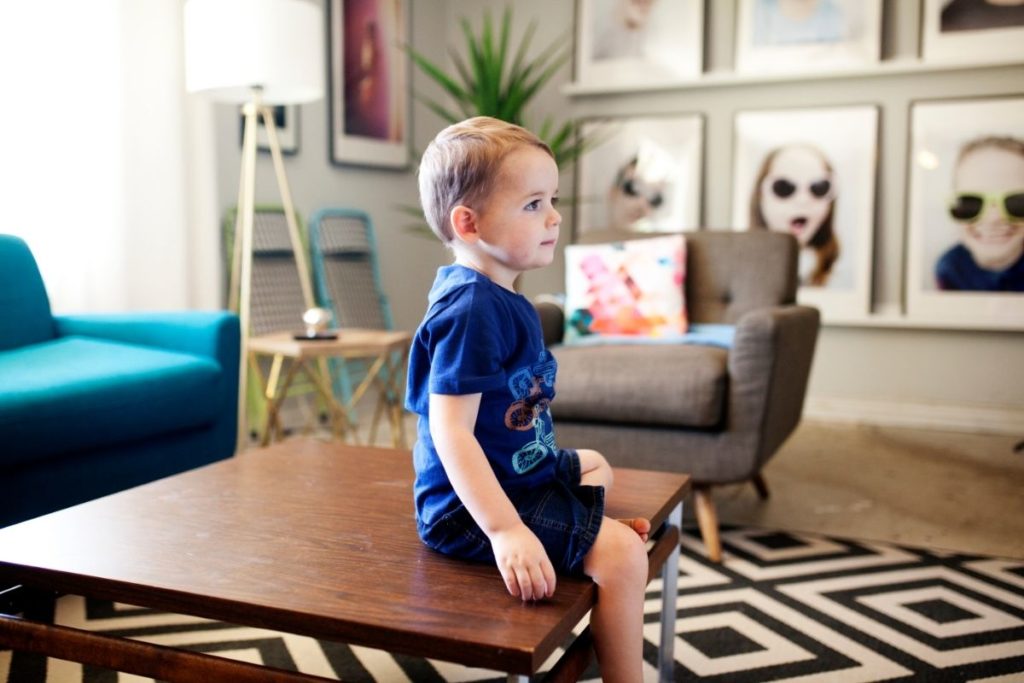 Can You Have a Coffee Table with Kids?
Of course! Having a kid doesn't mean that you have to kiss goodbye to the thought of a coffee table. That being said, having children walking around the place does mean that you need to consider a few more things when it comes to choosing a coffee table.
For instance, children are highly susceptible to accidents, especially when they're a toddler just learning to walk! As they can be unsteady on their feet for the first few years of their life, you will want to ensure that you choose a coffee table that doesn't have any sharp corners that your child could potentially injure themselves on.
A round wood coffee table, for example, is a great option for children of all ages, because there are no sharp corners that your child could hurt themselves on. Alternatively, you should make sure that you take the precautions to cover each of the corners on a standard rectangle coffee table by investing in corner protectors.
It is also worth noting that when a child is just learning how to walk, you can bet that they are going to try to pull themselves up on anything that they can get their hands on.
This means that you are likely to find lots of little fingerprints all over your furniture, especially your coffee table. Bearing this in mind, you will want to opt for a coffee table that can be easily cleaned or a color that fingerprints are less likely to show up against.
How Do You Make a Coffee Table More Kid Friendly?
There are a few ways that you can make your current coffee table more kid friendly.
These methods include but are not limited to:
Move the Coffee Table Out of your Child's Way 
A temporary solution is to move your coffee table out of your child's way into the corner of the room while your child is getting to grips with walking.
That being said, this option has significant limitations. This is because you won't be getting the use out of your coffee table, as it will need to be moved around regularly away from your child as they learn to walk.
In addition to this, even when your child learns to walk accidents can still occur, so you need something more permanent or invest in a new coffee table.
Installing Corner Protectors 
As a more permanent solution, you can easily cover the sharp corners of your coffee table with corner protectors to prevent bumps and bruises.
Corner protectors are an affordable solution to childproofing your coffee table, and are very easy to install yourself. The best thing about them is that they provide you with peace of mind, especially when your child is first learning to walk.
Corner protectors come in a variety of materials, from rubber to plastic. Rubber guards are great, as you can easily cut them to size to fit the length of your table and they take no time to stick to your table with the adhesive backing.
If you're still anxious that your coffee table isn't kid friendly, then you should invest in a new one with your child in mind.
A few good options for kid friendly coffee tables include:
Leather Ottomans
Leather ottomans are a super chic addition to any living room, and they don't have to be too big to work great as a coffee table. Although leather ottomans can be on the pricier side, they are definitely a kid friendly investment in that they are soft and your child isn't likely to hurt themselves as their corners are rounded.
Choosing a dark leather ottoman which hides marks or dirt easily is a good option for when you have kids, as their sticky hands can get all over your nice furniture. Having a dark color ottoman is a great way to mask this, as you won't have to waste time regularly wiping it down and cleaning it.
Pouffe
Keeping in line with the soft theme, why not opt for a pouffe instead of a coffee table? Pouffes are highly versatile, and can be used as coffee tables and footstools.
Not only are they super stylish, but you don't need to worry about your child hurting themselves, as pouffes are designed to be pillowy.
Round Coffee Tables 
As I've mentioned above, round coffee tables are the perfect coffee table option when you have children, as there are no sharp corners!
Round coffee tables come in a variety of different shapes and sizes! Not only do they look great, but they minimize the risk of your child hurting themselves as there are no sharp corners you need to be worried about.
Is It Necessary to Childproof your Coffee Table?
Childproofing your coffee table is necessary, as it will not only protect your child from any bumps, but it will also put your mind at ease when it comes to them falling over as they're still finding their feet.
Accidents can occur, and it's much better to be safe than sorry when it comes to the safety of your children.
After all, you want your child to be able to learn to walk with confidence in a safe space. A bad fall could knock their confidence and significantly hinder their progress, so it's best for them if you take all of the precautions to ensure that they're as safe as they can be in their home.
In Summary
Yes, you can have a coffee table with kids, you just have to be a bit more mindful of their needs.
The risk of your child hurting themselves is much higher as they are unsteady on their feet when they are learning to walk.
Childproofing your coffee table with corner protectors or choosing a coffee table in accordance with their needs minimizes the risk of your child getting hurt.