Deciding on the correct sofa alignment for your size living room is kind of a crucial part of the overall finished organization of the room. Your style choices and preferences should be considered alongside the sofa as it's the largest piece of furniture that's probably going to be in that living room.
If you mess up with the sofa, the whole room faces the consequences, so take extra care when making this decision by looking at the overall four walls of your living room and deciding exactly what works, and what doesn't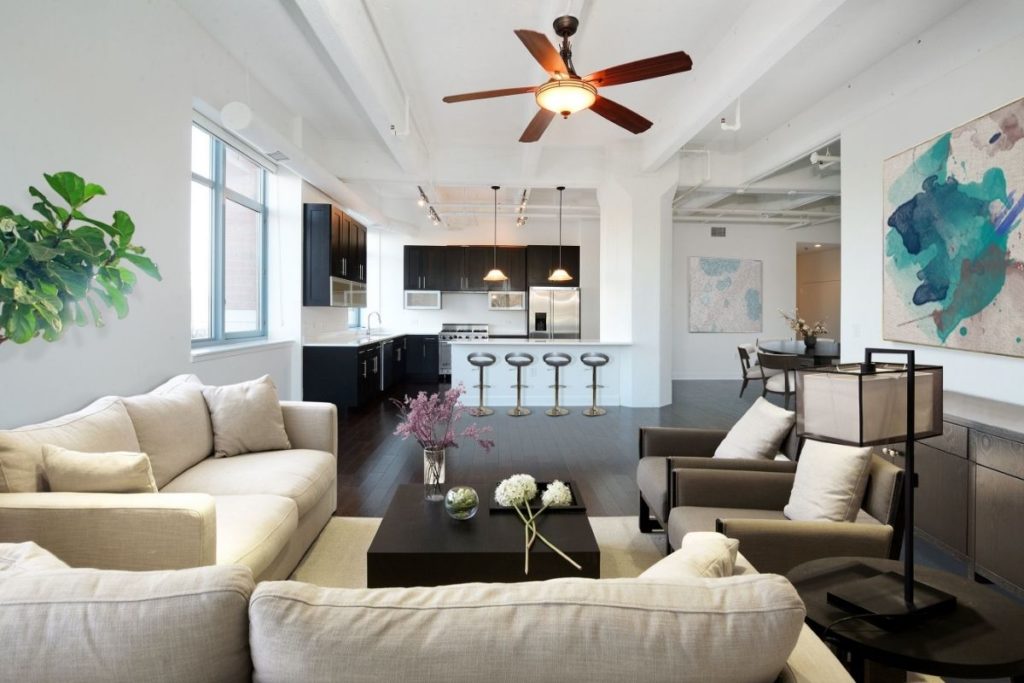 You're going to have to get creative with this one, and it may take a while. So, we've created an opportunity for you to ask yourself some questions when deciding if a sectional is right for your living room.
Are Sectionals Going Out Of Style?
Not at all, they may have slipped out of common purchasing for a while, but even at their all-time low, many families and homeowners prefer a sectional style couch for their living rooms because it's practical.
And at their sales peak, these couches were booming and it seemed no one in the world could stop the takeover. The thing about sectionals is that they make great family-friendly couches, sure statement couches were popular for a while and still are for aesthetic and decoration purposes, but sectionals are a comfort-induced couch made for 'living' on just as a living room would suggest.
If this question is concerning you because you're thinking of introducing your living room to a sectional, try not to worry as they certainly are not out of style and never will be as couches are a practical furniture item and every person has a diverse range of taste that sectionals will always be the dream couch for some and not others. Everything comes back into style eventually if they slip out of it.
And the great thing about investing in sectional couches is that they're perfect for family life. Sectionals have your best comfort interest at heart and really do live up to their appearances.
The materials used to make these sectionals are made for comfort absorption, so whether it's needed for those lazy Sunday nights in front of the TV with the little ones, or you've had a friendly get-together and your friend needs a temporary bed for the night.
They're designed to make you want to fall asleep, and they certainly live up to that prediction. They make you want to sink down into the many layers that make up the couch so you can rest easily and well.
How Do You Decorate With A Sectional?
Okay, so everything is going to fit around this couch, isn't it? The TV stand, the coffee table, the bookshelf, and even the other smaller armchairs you may want in addition to your sectional couch.
To decorate well with a sectional, work around the actual couch itself and everything should be fine and dandy. We recommend trying a statement color out with a sectional and working around the smaller tones that can work in the room.
Try an unexpected color out as this may make you question your choices, but it's a rewarding decision as a sectional couch is everything in this case. So, you may as well go all out with it to make it work.
Or if statement and bold colors aren't to your fancy, try a neutral shade that you can use as a base to build the color up into the living room. Couch cushions, rugs, lamps, and wall decor can biome statement pieces to work around the couch, so if you're worried about it taking up too much space in your living room, try dulling it down with bold accents.
Bold cushions are a fantastic way to do this.
The great thing about sectionals too is that they can be what makes the room and if you have a large space to work with, they can be fantastic for experimenting with other things. They're corner couches, so they fit well in unused corners and dave space overall.
Therefore if there's something you've always wanted to include in your living room but it's never quite worked out well situated, nows the chance! If it's a pinball machine, or snooker table, or something else. Sectional couches can help you make these dreams come true.
How Do You Set Up A Living Room With A Sectional?
The only downside to investing in sectional couches is that space can be difficult to work around when the couch has to be placed in a corner ideally. They can be sectioned around one straight wall and used as a divider between rooms too, but they best work in corners.
Try using a measuring tape with the sectional's estimated measurements and experimenting with where it works best n your living room and home. You can do this by measuring where it would fit in each corner to see which corner handles the piece of furniture the best.
Often homeowners will place them away from doors or archways as they can easily block these spaces that you ideally want to be kept clear for movement. The last thing you want is a couch being in the way of the basic and general walkway system of your living room.
The best corners to place them in are with windows ideally. Sometimes a window can have you guessing what to place below it so it doesn't look unusual or badly placed. Often we situate our couches below windows to help bring light into the room and onto the furniture itself.