It might seem like a small detail, but your living room isn't complete without the perfect coffee table. It is often the centerpiece of the room where you display your collection of art pieces, candles, books, and even where you rest your feet.
They're also pretty helpful when it comes to entertaining, and is a place where guests can gather around. 
However, choosing a coffee table can be a challenge as there are a myriad of designs that you can choose from to fill your space, and sometimes we don't always have a lot of space to work with.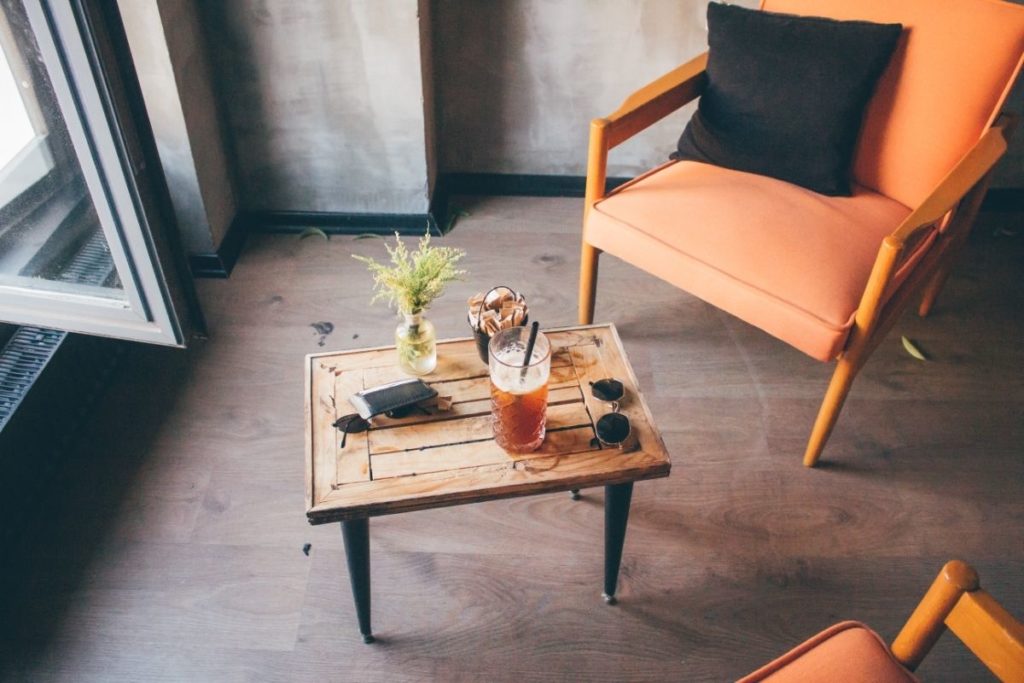 For instance, if you choose a coffee table that's too big, you can overwhelm the space and the room will feel too cluttered. However, if you choose one that's much smaller in relation to your sofa, your room will look unbalanced.  
A coffee table should complement your space: it should have enough room for you to place any decor/clutter items that show off your personality, a great conversation piece, and should accent the rest of the furniture in your room.
Your coffee table needs to fit seamlessly into your living room, and shouldn't give off an overwhelming vibe that can make your room feel cluttered, but it also shouldn't be so small that it looks lost. 
Time and time again people make the design mistake of choosing a coffee table that is either too big or too small, and getting the dimensions right is key to creating the perfect living space. We've put together a guide to help you choose the right coffee table for your space, including dimensions and placement rules.
What is the Average Size of a Rectangular Coffee Table?
Before choosing a coffee table it's worth mentioning that there should be an average of 16 – 18 inches of space surrounding your coffee table so that you are able to comfortably walk around it.
The average width of a rectangular coffee table is 18 to 24 inches, and the average length can range anywhere between 36 and 48 inches, which depends on the length of your sofa. As a general rule of thumb, your coffee table should be no more than ⅔ of the width of your seating.
What is the Average Length and Height of a Coffee Table?
As a general rule, your coffee table should be around 1 – 2 inches shorter than the height of your sofa's seat. As the height of a sofa is dependent on the seat cushions, this can vary depending on the style of sofa you have.
With that being said, the idea is that if you're lying down on your sofa, the coffee table won't obstruct your eye-line. 
The standard seat height of a sofa is 18 inches, so the average height of a coffee table is around 16 / 17 inches. To be on the safe side it's worth measuring the seated height of your sofa (including the pillows) before purchasing a coffee table.
Now you know about what height your coffee table should be, it's time to think about length. Ideally, your coffee table shouldn't be more than two-thirds of your sofa's length.
This length is great as when you center the table there should be an equal amount of space on each side to the end of the sofa, which gives you enough room to move around the table easily and looks polished. 
As an example, a 2 to 3 seater sofa can range anywhere between 48 – 80" in length. This means that your coffee table should be around 30 – 48 inches in length. If you have a sectional "L-shaped" sofa, your coffee table should be no more than two-thirds of the length of the sofa portion only.
This will help to create balance, and if the coffee table is too big it can be hard to maneuver around. If you have an extra-long sofa or your living room is spacious, you can extend the length of your coffee table to around 56 inches. 
Coffee Table Placement
Now that you know the dimension rules and your new coffee table is on it's way, it's time to position it in the right place. The ideal distance that your sofa should be from your couch is around 18 inches.
This will allow for plenty of legroom, but also means that the table is also within reach. It also allows you to be able to comfortably open any cabinets and drawers that your coffee table may have. 
If you're also placing chairs near your coffee table, the 18-inch distance rule will apply to them too. But this rule isn't set in stone, so you can be flexible and go for as little as 12 inches if you're working with a tight space.
In terms of other furniture, allow at least 30 inches of space between the table and nearby furniture items. If your living room is narrow, leave around 24 inches of open space. Another rule of thumb is to leave around 24 to 30 inches of open space between your coffee table and TV stand. This opens up the flow of the room.
Tips for Choosing the Right Coffee Table
For smaller living rooms, rectangular and oval shaped tables work best
For sectional or larger seating sofas, it's best to opt for a round or square shaped coffee table.
A taller sofa looks best with a coffee table that's at least 20 inches high, as it will be easier to reach or place things on the table.
When choosing a coffee table make sure you refer to your sofa's measurements, and make sure that it doesn't exceed two-thirds of the length of your sofa.
If you are taller you may need to opt for a taller coffee table.
Final Thoughts
Picking the right sized coffee table is not as complicated as it may seem, you just have to follow some basic rules. Remember to keep in mind that the size of your coffee table needs to be proportionate to the rest of the furniture in your living room, and it needs to look right in the space.
Once you've picked the right coffee table, it won't be long until you'll be sitting around it entertaining your friends and family.